Calais blockade: Protesting French fishermen block port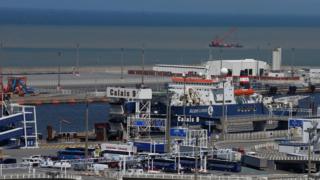 Protesting French fishermen have blocked the busy port of Calais, stopping all ships from arriving or leaving.
The fishermen are reportedly protesting against so-called pulse fishing, which uses electrified nets to stun fish.
Members of the European Parliament recently voted to ban the controversial practice.
The head of P&O Ferries, Janette Bell, said the blockade of the port was "utterly unacceptable".
"We call on the French authorities to ensure that the blockade is cleared without further delay and that Calais reopens for business," she said in a statement.
Calais is a major link between the UK and France used by thousands of tourists and commercial vehicles every day.