Sky signals the end of the satellite dish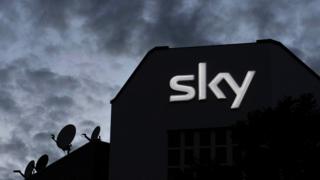 Sky plans to offer all its channels and content available online, meaning customers will no longer need a satellite dish on their property.
The pay TV broadcaster already offers some content online on its Sky Go and Now TV services.
Sky called the move a "major development" that would reduce costs and allow it to enter new markets.
It is a response to the move away from costly pay TV subscriptions in favour of streaming services such as Netflix.
Italy will be its first market to get all Sky channels online, followed by Austria.
Exploring growth opportunities should help increase both revenue and profits, Sky said.
Jeremy Darroch, its chief executive, said he expected the consumer environment to remain "challenging".
Reporting its results for the six months to 31 DecemberSky said average revenue per user in the UK and Ireland – its biggest market – fell £1 to £46 a month.
However, the number of customers leaving Sky – the "churn" rate – decreased from 11.6% at the end of 2016 to 11.2%.
Sky said the fall was a result of more customers taking its latest Sky Q box and a "more disciplined and targeted approach to discounting".
Mr Darroch said there was good growth at both the top end of the market, with its premium Sky Q product now in 2 million homes in the UK and Ireland, and the bottom end with Now TV.
Now TV offers sports, movies and entertainment channels over the internet more flexibly and cheaply than through a Sky subscription.
The number of retail customers in the UK and Ireland rose by 255,000 to 12.9 million, while Sky added 365,000 new customers to bring the total to 22.9 million.
Like-for-like revenues rose 5% to £6.7bn in the half-year and pre-tax profit jumped by £106m to £448m compared with the same period in the previous year.
Last year 21st Century Fox made a bid to buy the 61% of Sky that it does not own. Both companies are controlled by media mogul Rupert Murdoch.
This week the the UK's Competition and Markets Authority ruled that the proposed takeover was not in the public interest on grounds of media plurality.
Since Fox made the bid it has agreed to be taken over by Disney, so the US media giant could end up owning Sky.
Sky shares rose 0.6% to £10.29 in morning trading in London, valuing the company at £17.7bn.